AMOOK'S FLUFFER NUTTER AND JELLY, CGC
I am a Woolie Alaskan Malamute and my name is JELLY
My name is Jelly, aka Jelly Bear, Fluffer Nutter, Jelly Belly, and Fuzzy Man.
I was born on April 14th, 2011 in Horseheads NY to my beautiful Mom, Lacee and my Handsome Dad, Winston, of Amook Alaskan Malamutes.
My First Day with my New Mom and Dad
I was a very good boy on the ride home, even though I missed my first family and where I was born because I loved them so much.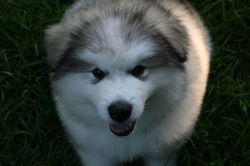 Please check out my other pages and check back often for updates as I grow! Love, JELLY
Woolie Malamutes require much more grooming than the standard coated Malamutes. Daily brushing is required to prevent matting and will help to remove any outside debris that is picked up by their "swiffer" like coat.

But I soon realized that my new forever family loved me just as much as my breeder's family. I know I am going to love it here!